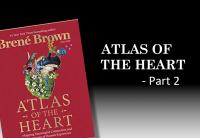 Four classes.
Sundays, March 19, March 26, April 2, and April 16.
12:45 - 2:45 p.m.
Facilitated by Michele Coles
$40.00
This is the second round of classes based on the book Atlas of the Heart: Mapping Meaningful Connections and the Language of Human Experience by Brené Brown.
This four-week class explores emotions, experiences, and ways to cultivate new connections. Together we will explore different aspects of our emotions. Along this path, we can learn how to name and understand our emotions in a way that empowers us to connect to ourselves and others.
You may participate in this class even if you missed Part 1. Join us in this adventure of human connections.
Books are available on Amazon.com. Hardback, paperback, audiobook, and kindle versions are available.
Click here for hardback, kindle, and audiobook versions.
Click here for the paperback and audio versions.
For more information, please contact Michele Coles at mcoles23@hotmail.com.
The class fee is $40 for four weeks or $10 per class. You may pay at the time of the class.
Registration is necessary. Please click on the button below to register.