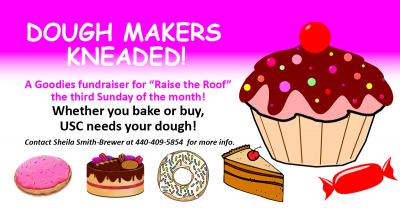 Dough Makers Kneaded
A FUN fundraiser for our "Raise the Roof" campaign!
Whether you bake or buy the dough, USC needs your dough!
Bakers and candy makers are needed to bring in baked goods and homemade candy to help fund our Raise the Roof campaign. We will sell these tasty treats on the third Sunday of the month after Service.
If baking, please bring goodies to the kitchen by Unity Hall before Sunday Service.
For questions, please contact Sheila Smith-Brewer at 440-409-5854 or ssmithbrewer@gmail.com.