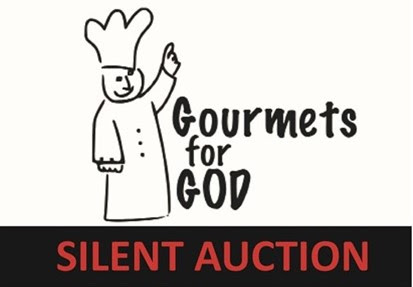 Gourmets for God is a fun and unique FUNdraising, Friend Raising Silent Auction geared towards bringing together our spiritual community, family, and friends to share a meal and create wonderful memories while raising funds to help support our spiritual community in 2022. 
Event Hosts create and sponsor an event that includes food or snacks and exciting or fun entertainment.
Gourmets for God is similar to a "silent auction." Bidders will view the "auction" in the Community Room before and after Sunday Service, read through the list of events, check the dates of the events, and bid on one seat or "spot" at the event. The higher the bidding, the more financial support Unity Spiritual Center receives.
Hosts:
Let your imagination go wild!
Here are a few examples for inspiration: 
Hosted Dinner - German/Spanish/French or Italian themed
Lunch and Labyrinth - Tour area labyrinths
Boats and Brunch - Take participants on your boat and serve lunch or sunset dinner
Harvesting Health - Host a healthy cooking party
Bike and Brew - Bike through Cleveland's near west side and visit local breweries
Bowl Dogs - Hot dogs and bowling!
Hosts can submit event details on paper or online from May 1 through June 5.
Schedule your events from July through the end of December 2022.
Please click here to submit your event details online.
Paper host forms are available in the back of Unity Hall from May 1 through June 5. Return to any  Inreach Team member; Connie Eshman, Rita Enlow, Jan Casey-Liber, Corinne Patel, or Judy Groty.
Bidders:
Silent Auction bidding only in the Community Room before and after Sunday Service or during regular business hours Monday through Thursday from June 19, 2022, through July 3, 2022.
Bid Amounts are due by July 17, 2022.
Questions? Speak to any Inreach Team member or email Connie Eshman with questions at nonnieguardce-inreach@yahoo.com.