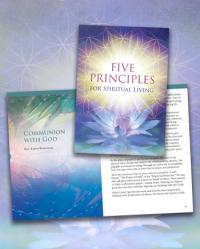 Growing Unity's Five Basic Principles
Presented by Jessie St. Christopher
Sunday, January 8 through Sunday, February 12, 2023.
12:30 to 2:00 p.m.
We hear about Unity's Five Basic Principles frequently. Many of us can even state them! However, how about delving into the depths of them, finding meanings within each, and finding ways to apply them in our daily life? A bit of Unity history might even be found!
As you understand the spiritual ideas Unity presents, you can explore and apply Unity's teachings to your life in a setting of support and companionship.
The class will be held in the Chapel when available. (If the Chapel is in use, we will meet in a classroom.)
Love offerings are gratefully accepted each week.    
The Unity booklet, Five Principles for Spiritual Living, will be provided. Jessie will also reference material from The Five Principles: A Guide to Practical Spirituality by Ellen Debenport and Use the Truth You Know: Unity's Principles and Premises by Paul Hasselbeck. 
Love offerings are gratefully accepted.
There is a $10 registration fee for the class. (Please contact Jessie if you are interested and cannot afford the fee.)
For more information, please get in touch with Jessie at laugheagle@outlook.com.
Please click on the button below to register.