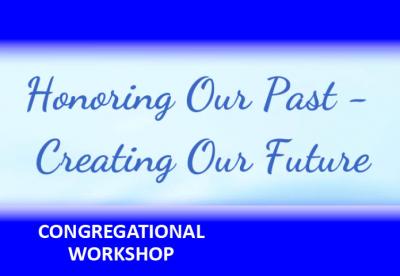 Honoring Our Past, Creating Our Future
A Congregational Weekend Workshop, facilitated by Rev. Aliza Bloom Robinson, Unity Worldwide Ministries Certified Transitional Consultant 
Friday, Dec. 8, 6 to 8 p.m.
Saturday, Dec. 9, 10 a.m. to 4 p.m. 
Lunch provided, love offerings accepted
This is a free event.
 
The Honoring Our Past, Creating Our Future workshop is an opportunity to explore the heritage of Unity Spiritual Center while addressing any unseen patterns to consciously move forward and co-create a vision and a future. This is vital to the deeper understanding and awareness of the soul of the ministry and opens the field for conscious co-creation in moving forward. The workshop is presented as a weekend experience for a congregational process of discovery. 
Process Outline
Part 1 on Friday evening
•    Welcome, pray in, agenda. Logistical consideration, creation of shared agreements
•    Circle of Honor - group process
•    Sharing our Story - group process in partners
•    Identifying eras
Part 2 on Saturday 
•    Exploring the eras
•    The story of Unity Spiritual Center
•    Celebrate accomplishments
•    Identify opportunities
•    Moving forward - next steps
What previous Workshop Participants have said…
"It was a community-building experience that validated we are headed forward together."
"Fabulous! So valuable personally and collectively."
"The exploration of our church history helped to ground me in the complexity of what a living organization called church really encompasses."
"Helped me be more open to others' perspectives and see how I can be part of the change needed."
"As a new member of Unity, I found it to be quite informative and educational."
This is a free event.
Registration is requested to plan food and seating arrangements. Thank you.

On Sunday, Dec. 10., Rev. Aliza will give the Sunday message and facilitate a short community connection (approximately thirty minutes) after Sunday Service to introduce the work to the rest of the congregation and further deepen the awareness and ownership of the process and the ministry.
Rev. Aliza Bloom Robinson, an ordained Unity Minister, is a certified transitional specialist, Interim Minister, and Ministry Skills Consultant for Unity Worldwide Ministries. She has served as a senior minister in church ministries for over 15 years. Since 2007, Rev. Aliza has had an alternative ministry, Divine Awakening, consulting, coaching, facilitating, and teaching. She has served in 4 ministries as a Transitional/Interim minister and has found her sweet spot! Rev. Aliza loves the "gap" – that special space between endings and beginnings. She is masterful at holding space, creating a sense of relief, and facilitating the navigation of waters of change. Rev. Aliza loves the worlds of New Humanity, Quantum Frequencies, vibration, and energy.