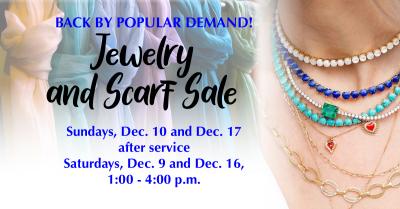 Support Unity Spiritual Center in this dazzling fundraiser!
Now, be honest. We all know it's not a need - it's a want. If you're a jewelry or scarf person, this sale is for you. So as not to feel guilty, donate some pieces you don't wear anymore and buy new ones! Or find the perfect Christmas gift for someone else!
Bring your donations in small plastic bags to the office on Sundays or during the week. Donations will be accepted through Sunday, Dec. 3. 
As an additional service, simple jewelry repair will be provided for a minimal fee (no soldering).
Shopping will be in the Community Room. Saturdays, Dec. 9 and Dec. 16, from 1 p.m. to 4 p.m.
Also, Sundays, Dec. 10 and Dec. 17, after Sunday Service.
Dec. 17 is Cookie Sunday!