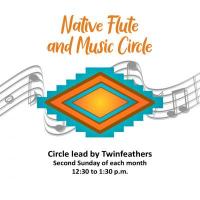 There will not be a Native Flute and Music Circle in April due to Easter.  They will resume in May.
Native Flute and Music Circle.
12:30 p.m. to 1:30 p.m. in the Chapel.
Second Sunday of every month.
Circle led by Twinfeathers.
You're invited to Make a Joyful Noise with your native flute, drum, shaker, voice, or other melodic instruments in this versatile and fun circle.
We will also do activities to experience sound/music supporting our well-being.
Love offerings are gratefully accepted.