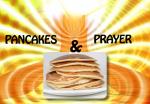 Pancakes and Prayer
A Fundraiser for our USC Prayer Chaplains
Sunday, February 19, 2023
Noon to 1:30 p.m.
$10 for adults and $5 for children.
Enjoy a wonderful Pancake Breakfast to start the Lenten season.
We will offer regular pancakes, gluten-free pancakes, sausage, vegetarian sausage patties, and fruit.
Proceeds will be used for Prayer Chaplain training and renewal opportunities.
Thank you for supporting our Prayer Chaplains!