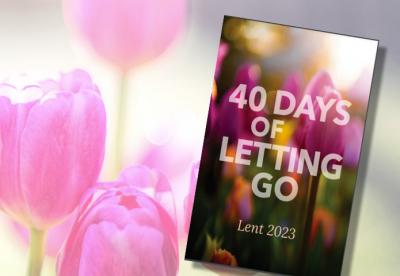 Release and Let Go
Wednesday Evenings
7 - 8 p.m.
February 22 through April 5
Our Prayer Ministry invites you to join us to "Release and Let Go."
We will follow Unity's latest booklet, 40 Days of Letting Go: Lent 2023. It offers inspiration and specific suggestions for releasing whatever keeps you from realizing your true spiritual nature.
The booklet not only identifies qualities to release—anger, anxiety, fear, and more—but explains how to do it. It includes:
Daily messages suggesting ways to let go of a particular habit or action
Bible verses and affirmations to help shift your consciousness
Insightful Sunday essays explore the process of letting go and preparing you to welcome the love, power, and wisdom around you. 
The seven-week season of change will include prayer, extended meditation, song, and discussion from the Lenten booklet. Booklets will be provided.
A love offering will be gratefully received but not necessary.
For more information, please contact Michele Coles at mcoles23@hotmail.com.