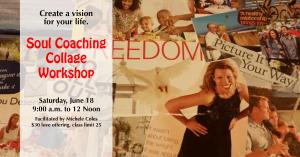 Soul Coaching Collage Workshop
Saturday, June 18
9:00 a.m. to 12 Noon
Facilitated by Michele Coles
$30 love offering, class limit 25
Create a vision for the next phase in your life.
Participants go through a soul journey to communicate with their inner wisdom and then find images and words in magazines that reflect the inspirational guidance that is revealed.
The workshop ends with a unique demonstration of using the collage to manifest your dreams!
Find out what your Soul wants you to know!
Please email Michele with questions at mcoles23@hotmail.com.
Registration is required.
Please click on the button below to register.