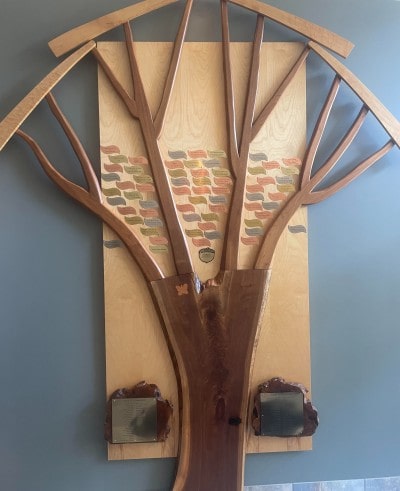 A way to honor for a lifetime the people, intentions, or ideals that you deeply cherish
A synthesis of art, sculpture and spiritual purpose permanently mounted on the foyer wall of Unity Hall, the Giving Tree at Unity Spiritual Center is a way to honor cherished loved ones, intentions you have set, or ideals in which you deeply believe.
Created by master craftsman James Van Hala, the Giving Tree holds leaves of plated bronze, silver or gold, each engraved with an enduring message of love, blessing, hope or thanks.
The engraved leaves will remain on the tree in lasting tribute or as a special reminder to you each time you enter Unity Hall.
There are already many leaves on the tree. Over time, in a community as large as that of Unity Spiritual Center, the Giving Tree will become abundant with exquisite leaves, and that abundance will bring forth unlimited possibilities for projects to improve or expand our community in years to come. 
Donors making larger gifts may purchase an acorn to hang on the wall, a wooden rock to be placed at the foot of the tree, or an eagle to fly near it.
Bronze Leaf:  $250-$499
Silver Leaf:  $500-$999
Gold Leaf:  $1,000-$4,999
Acorn:  $5,000+
Rock:  $10,000+
Eagle:  $50,000+
To make a donation, please click on the button below,
and select Giving Tree from the drop-down menu. Thank you!