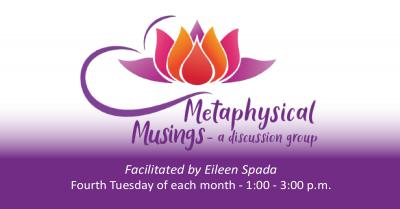 Metaphysical Musings  -  A "Beyond the Norm" discussion group.
Come meditate, share "Beyond the Norm" experiences, learn how to find answers to questions, and investigate various metaphysical topics in a safe, protected environment. 
Facilitated by Eileen Spada
Fourth Tuesday of each month
1:00 - 3:00 p.m.
Registration is not required.
Love donations are gratefully accepted.
Please email Eileen with questions at profei@aol.com.