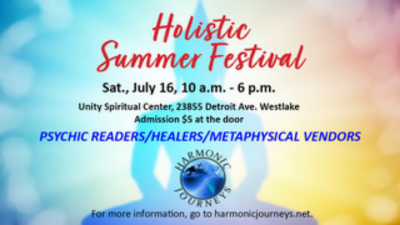 Indoor/Outdoor Summer Fun on Unity Spiritual Center Westlake's beautiful grounds.
Unity will be among the vendors at this event. If you are interested in spending two-hours at the Unity Spiritual Center table talking to attendees about the joy of belonging to our church as well as the principles of Unity, please contact Shirley MacFarland at shirleymac48@att.net. This is a wonderful opportunity for one-on-one marketing to a like-minded audience. And it should be lots of fun!
You'll find Holistic Practitioners, Energy Healers, Psychic Readers, Tarot and Oracle Card Readers, Informative Speakers, and Hollistic and Metaphysical Vendors.
You'll find products to recharge your body, mind, and spirit … alternative healing products, aromatherapy, art, aura photography, books, candles, CBD oils, crafts, crystals, essential oils, gemstones, incense, music, natural products, oracle cards, organic skincare products, pendulums, pet products, sage, smudge wands, tarot cards, trinkets, unique jewelry, and oh so much more.
For a complete list of vendors, readers, and speakers, please visit 
https://www.harmonicjourneys.net/holistic-fair-showcase.