Details on specific Sundays will be on our Sunday Services page.
Please click here to visit the Sunday Services page.
The USC Children's Experience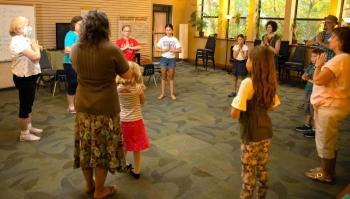 Our spiritual education for children is available during the 11:00 a.m. service on the second through the fifth Sunday of each month. The first Sunday of every month is a multigenerational service, and the children are invited into Unity Hall with their families. 
Our Sunday morning experience begins with all the children gathering in an opening circle. Parents are also invited to this opening circle, which lasts for about 15 minutes. Then the parents return to the Sunday service and the children are led to their individual classrooms by their teachers.
Included in the opening circle are affirmations, joy songs led by the YOU (Youth of Unity), prayer, and love offering. During our Sunday morning experience, we use A Living Curriculum in our Lesson Format.
Our teachers will work with parents to determine the developmentally appropriate classroom for each child in our program.
A Living Curriculum
The vision of A Living Curriculum:
To empower youth to use their spiritual wisdom to fulfill their soul's purpose
To empower parents to see themselves as the prime spiritual educators of their children
To empower facilitators to see education as a process through which they model how to live according to spiritual principles and effectively support the unfolding of the child's spiritual nature
To empower a spiritual community to function with unity in diversity
Five-point checklist of A Living Curriculum:
Identification: Presentation of the issue to be explored
The Vehicle: A story, movie passage or experiential activity used to introduce the issue or theme in a way that helps the students connect with it
Exploration: Use of a questioning strategy that encourages students to explore the issue or theme and find its relevance to their lives
Creative Experience: Use of open-ended interactive activities intended to encourage students to express the parts of the story that have meaning to them and to awaken it in their hearts
Sharing: Allowing time for the children to state what the lesson meant to them
Sacred circle: A time of community building, reconnection, celebration and prayer
Story sharing: A story is used to create common ground among the students
Discussion: Use of a questioning strategy to encourage students to explore the story and discover how it reflects Unity principles and relates to their life issues
Creative experience: Through creative expression, each child explores the ideas and concepts shared in the group
Sharing: A time of sharing and talking about their experience
Closing: A time to help the children find completion with the lessons, share what they have experienced, and create a bridge to the next week