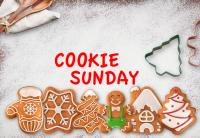 December 11, 2022
Cookie and Community Sunday
You are invited to bake or buy a few Christmas cookies and bring them in, already plated, to share. We will set up tables in the foyer of Unity Hall, where you can leave the cookies before Service.
We will gather in the Community Room after Sunday Service. Our youth will present a short Christmas program and decorate the tree with homemade ornaments.
This Sunday is for everyone to sit and relax amidst the Christmas bustle and enjoy cookies and community to celebrate the holiday. Gluten-free options will be available.
Are you looking to take cookies home? Check out our Goodie Fundraiser after Sunday Service on the third Sunday of each month.