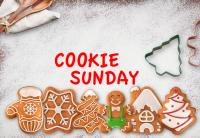 Sunday, December 17, 2023
Cookie Sunday
Join us as we kick off the holiday season with our third annual "Cookie Sunday." You're invited to gather after our Sunday Service in the Community Room for Christmas cookies and fellowship.
We are asking everyone to bring their favorite Christmas cookies to share, plated and ready to serve. Take time from your busy schedule to relax, have a cookie, and make new friends. Gluten-free options will be available.
Maybe even get some Christmas shopping done. Our Jewelry and Scarf Fundraiser will also be in the Community Room.